2 day course with a maximum of two students
This course is an introduction to professional mould making skills for pottery production based on the techniques of the advanced mould making course once taught in Stoke On Trent. Although it is a skill acquiring course it is also based on personal project work. Some drawings and design work would be required in advance from the participating students in order to fulfil the most potential from the two day course.
Tuition on all machinery Including the Wheel, Lathe, Whirler and Bandsaw would be included. As well as hand skills and basic good practice with plaster casting. By the end of the course students will have covered drop out model and mould making, plus handle model and mould making. Making models from clay using waste moulds to make hard plaster models and making three or more part vertically split moulds.
The aim of the course is to enable participants to make their own moulds to a standard which can be re-produced using a plaster or rubber Case in the most efficient way.
Handle model & mould making: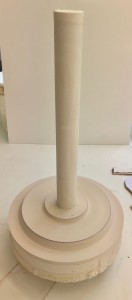 Sledging first section of candle stick holder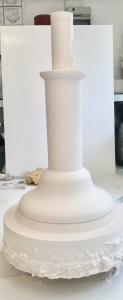 Sledging middle section of candle stick holder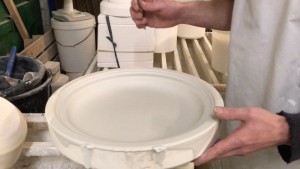 Andrew Challinor scrapping off Bone China in Warren st S-O-T