Existing Clients work.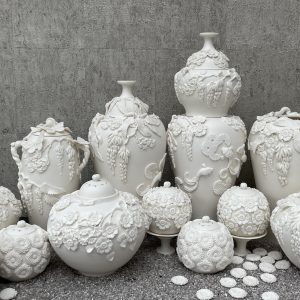 Design Companies
Grayshott Pottery, Porta Romana Ltd, Tregear Pottery, Bidean, Hand Studio, Adam Furman, Studio Vit, Toogood Studio, Hotel Chocolat, Warm, Graphic Thought Facility, Rodd Design, W3 Ltd.
Artists:
Carl Freedman Gallery, Goshka Macula, Grayson Perry & Richard Wilson with Kit Grover Ltd, Daniel Sinsel, Clare Twomey, Bruce Mclean, Kevin Francis Gray, Richard Wentworth, Fiona Banner, Katrina Fleming,
Studio Potters:
Steph Liddle, Lara Scobie, Rachel Cox, Rebecca Catterall, Laura Smilie, Grayson Perry with Kit Grover, Natasha Daintry, Kate Schuricht, Billy Lloyd, Lara Scobie, David Millidge, Sue Pryke Design, Robert Meredith, Linda Bloomfield, Katie Brinsley, Alastair Donald-Hokan Bowls, Mike Moran Ceramics, Amy Cooper Ceramics, Polly George, Rye Pottery , Grayshott Pottery, Charlotte Stockley, Rupert Merton, Jane Cox, Lisa Katzestein, Liz Emtage,
Earlier this year CP Ceramics worked with product designer Jody Leach to produce his latest design "Therma Cup", a double walled Bone China mug which has insulating properties at the fore front of the design. For people who like to drink quality beverages from a quality product, Jody incorporated a re-usable lid within the design – no mean feat given the vagaries of ceramic shrinkages. Having tested the prototype both with CP Ceramics and vitally in factory production conditions, he introduced a small number of compromises to the deisgn. The product tooling was completed by the time he first presented the idea to the market which he is approaching via the Kickstarter website. Although the project did take a number of months to bring to fruition Jody's careful and flexible attitude, in particular at the prototyping stage, meant that he has developed a high quality item which is easy to produce commercially within the UK.
* Please note that all work is copyrighted and belongs to the company or maker, the images and content remain wholly and in part the possession of the stated client *